Aan:

The Executive Board of The University of Amsterdam
UvA, cut ties with Shell!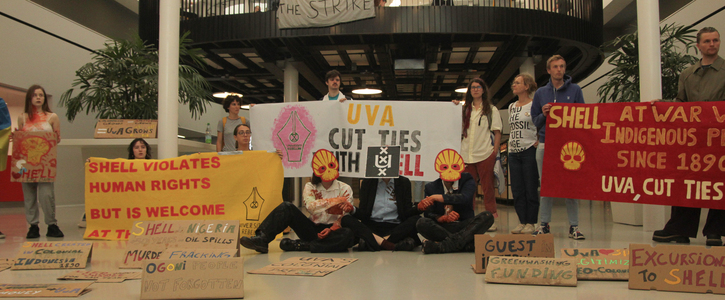 Our demands:
1) UvA, cut all ties with Shell!
We will have no fossil fuel companies in our university. We do not accept companies that abuse human and Indigenous rights and that are leading us towards climate catastrophe.
2) The UvA must find ways to replace the research funding provided by Shell.
The UvA must find ethical sources of funding, leaving no damage to PhD students and other staff that need research funding.
3) The UvA must reveal all their ties with Shell and other Big Oil companies*.
All the collaborations, in terms of contracts, events, advertisements, partnerships etc., between Shell and other Big Oil companies with UvA for at least the past 20 years.
4) The Advisory Committee Research with Third Parties of the UvA should immediately start the creation of a rigorous procedure that prohibits the UvA to freely collaborate with Big Oil and partners that fit into those described in demand 1 ("controversial companies" as defined in their policy document [0]).
This procedure must use their policy framework that already include human and environmental rights, but should also incorporate Indigenous and climate justice perspectives (using as basis the references I, II, III and IV below).
Waarom is het belangrijk?
Royal Dutch Shell was founded in colonial Indonesia in 1890. Since then, Shell has benefited from the horrendous practices of colonial extractivism and slavery, and has become one of the top 10 climate polluters in the world [1]. Across the globe, Shell's business practices enrich a select few while leaving behind barren land, polluted water, sick people and damaged ecosystems, mainly in the Global South. Shell violates the human right for water when they pollute the Niger Delta, destroying the livelihoods of fisherfolks and local populations. Also in Nigeria they were involved in supporting the military dictatorship that tortured and killed the Ogoni 9 activists [2].
Shell violates Indigenous Mapuche people's rights by fracking on their ancestral land, in the country we call Argentina, in Vaca Muerta site [3]. There, too, they cause destruction: earthquakes, respiratory disease to local and Indigenous populations, diseases in animals from pollution, contaminated water, barren land and other horrors.
UvA and Dutch universities partnering with Big Oil
Despite Big Oil's effort to lobby against progressive climate policy [4], to deceive the public through misinformation and deceptive promises for over 30 years [5, 6] and a ghastly legacy of destroying people's livelihoods [7-9], our universities blindly ignore and legitimize their activities.
The UvA has a list of connections with Shell: they have invited Shell to the UvA as guest lecturers [10], for discussion events [11][12] and for career events [13, 14] to promote themselves as the "frontrunners" in sustainable energy. In addition, students from the chemistry program are invited to visit Shell facilities, incentivising for a career there [15]. Lastly, shell funds several research projects at the UvA [11]. We demand this information to be accessible to the public for scrutiny. As students, we want our university to commit to fossil-free alternatives instead of Big Oil companies.
The collaboration in sustainable research between UvA and Shell is simply greenwashing. Shell invests around 5% of their investments in sustainable energy while 95% goes to fossil fuels [16]. In this moment, they are extracting fossil fuels [17] and are making plans to expand their fossil fuel extraction for the future [18-20]. Shell has no real plan to phase-out from fossil fuels [16, 21], as they keep missing their own targets and as the 2021 Dutch case against them shows [22].
UvA is not the only Dutch university that is collaborating with Big Oil. Other universities like TU/e are aiding Shell in finding new fossil-based "production and exploration methods" [23], offering job opportunities in the fossil fuel industry at career events [24], as well as giving Big Oil the opportunity to exert their influence in extracurricular activities [25-27].
In this current time of the climate crisis we have limited amount of time to avoid climate break down. We have until 2028 to lower carbon emissions to stay below the 1.5 °C of global warming [28, 29]. Universities should be the leading example of this transition for the futures of their students and staff by not collaborating with controversial fossil fuel companies like Shell.
To remain true to the UvA's values, like social responsibility, inclusion and sustainability [30-32], we cannot tolerate Big Oil at the UvA. Put your own words into action! Cut ties with Shell!
*Big Oil: companies like Chevron, ExxonMobil, BP, Total, Shell, ConocoPhillips. That does not mean, however, that "small oil" or similar business are therefore acceptable. We focus on Big Oil but will not replace Shell for companies that abuse human rights, Indigenous rights and/or that are leading us towards climate catastrophe.
Join us in demanding universities free of Big Oil!
In solidarity with people fighting Shell and other harmful companies,
University Rebellion UvA
---
Signatories: (message us to sign on behalf of your group!)
- Shell Must Fall
- Milieudefensie
- Milieudefensie Jong (JMA)
- SRVU
- Fossielvrij NL
- Extinction Rebellion (XR) NL
- Extinction Rebellion (XR) Amsterdam
- BIJ1 Amsterdam
- Students for Justice in Palestine (SJP)
- The Decolonization Club
- Scientist Rebellion NL
- Activisten Partij UvA
- ASVA studentenvakbond
---
The petition has already been handover. However, we will continue collecting signatures because the CvB has decided TO KEEP THE TIES WITH THE FOSSIL FUEL INDUSTRY after a 4 month dialogue. Read their full report here https://tr.ee/rDGepEJG8s
Keep up with the latest news by signing up for our email list and follow us on instagram @uvarebellion !
Want to know more about University Rebellion? Read our manifesto here!
http://universityrebellion.nl/wp-content/uploads/2020/11/The-University-Rebellion-Manifesto-RGB.pdf
---
Sources for climate justice and Indigenous rights perspectives

-- Other references on http://universityrebellion.nl/sources-petition-uva-cut-ties-with-shell/
[I] American declaration on the Rights of Indigenous Peoples, June 15, 2016. <https://www.oas.org/en/sare/documents/DecAmIND.pdf>
[II] United Nations Declaration on the Rights of Indigenous Peoples, 13 September 2007. <https://www.un.org/development/desa/indigenouspeoples/wp-content/uploads/sites/19/2018/11/UNDRIP_E_web.pdf>
[III] United Nations Declaration on the Rights of Indigenous Peoples, 13 September 2007. <https://www.un.org/development/desa/indigenouspeoples/wp-content/uploads/sites/19/2018/11/UNDRIP_E_web.pdf>
[IV] Declaration of the Rights of Mother Earth, 22 April, 2010. <https://www.rightsofmotherearth.com/declaration>
Other references on universityrebellion.nl/act
Hoe het overhandigd gaat worden
The petition has been handover to CvB member Jan Lintsen in VOX-POP on Tuesday the 13th of December 2022 at 16:00-18:00. We invited Prof. Guus Dix in Sociology and Philosophy of University of Twente to come give an academic talk which explains the arguments that the petition is based on. https://www.instagram.com/p/ClvnT_1I73A